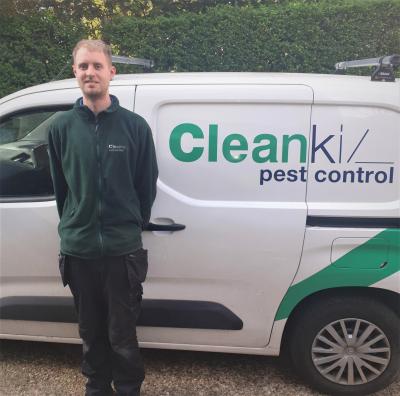 Cleankill Pest Control technician Oliver Roe has been shortlisted in the 'Young Pest Controller of the Year' category at this year's National Pest Awards.
Oliver, a 28-year old graduate with a BA in Arts (Modern History), began working for Cleankill four years ago. He covers the Central London area.
He said: "I am thrilled to have been shortlisted for these prestigious awards. I came to Cleankill through an unconventional route, having previously worked in construction. I was looking for a profession and approached Cleankill to ask if there were any vacancies. They didn't have any vacancies at the time, but I made a good impression and was contacted when a vacancy arose. I am really glad I chose pest control as a career.
"I am known as a perceptive, patient technician who maintains a high level of service and productivity in a challenging area of Central London. My managers say I have determination and that I keep going until I solve a problem."
Commenting on Oliver's success, Managing Director Paul Bates said: "Since Oliver joined us, he's applied himself in a way that is truly inspiring to anyone considering a new career in pest control. He is perceptive and patient, is great with customers, and has developed excellent skills as a pest control technician.
"Central London can be a challenging area to work in, but he has a calm demeanour and resolute approach, plus his natural flair for the job. We are getting great feedback from customers who love his approach, his reliability and determination to solve their problems."
Oliver is one of the few pest controllers in the country to have achieved a RSPH/BPCA Level 3 Award in Pest Management.
The National Pest Awards were launched to promote, reward and recognise excellence and good practice in British pest control. They are organized by Pest Magazine, in association with BASIS-PROMPT, the British Pest Control Association (BPCA) and the National Pest Technicians Association (NPTA).
The 'Young Pest Controller of the Year' award recognises the contribution that young pest controllers bring to the sector. It emphasises the importance of attracting new people into the industry and was open to anyone aged under 40 who has been qualified for fewer than ten years.
The award's winners will be announced at a black-tie event at the House of Commons on Thursday 9th September.
Now employing 50 staff, Cleankill Pest Control offers eradication and preventative services for all public health pests, including: mice; rats; cockroaches; wasps; fleas; squirrels and pest birds. As a registered waste carrier, Cleankill also removes pigeon debris and other waste.
With offices in Surrey, East Sussex, Bristol and Buckinghamshire, Cleankill has many customers throughout London, Surrey, Sussex, the Home Counties, Bristol, Gloucestershire and Somerset.
ENDS
For more information, contact Suzi Christie 07590 591140 or e-mail suzi@blueberry-pr.co.uk