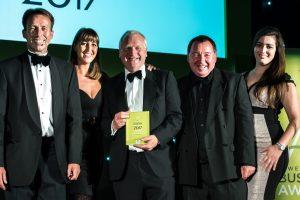 Cleankill Pest Control is celebrating after being named 'Best Customer Service' winner at Lewes District Council's annual business awards. Now in their fourth year, the Lewes District Business Awards brings together companies from across the district, to recognise their "success, innovation and excellence" during the previous 12-months.
From its office in Seaford, Cleankill covers the whole district and has strong ties with many local businesses.
Director of Cleankill, and Seaford resident, Jon Whitehead, commented: "It is always nice to be recognised for your work in your local area. We have been providing pest control services for businesses and householders in the Lewes area since 1995, and have built up strong ties to the local community.
"Being recognised for our customer service is a wonderful achievement which is shared by the whole team. When Cleankill was founded, one of its guiding principles was to provide a service that put the customer at the heart of its business operation. Winning this award is therefore a great acknowledgement of the importance of this approach to business."
The Lewes District Business Awards were announced at a special event held at Lewes Town Hall on 13th July 2017. The sell-out event, attended by over 220 people and with representatives of 46 finalists, was hosted by BBC News Correspondent, Ben Brown.
Commenting on the event, Councillor Andy Smith, Leader of Lewes District Council, said: "This awards scheme showcases the talent, dedication and sheer drive of business leaders from across both the Lewes District.
 "I am truly honoured to be able to highlight their achievements and wish them continued success in the future."
With offices in Croydon, Surrey, and Seaford, East Sussex, Cleankill Pest Control has been providing pest control services to London and the South East since 1995. Set up by former Rentokil employees, Cleankill was founded upon the desire to create a company that placed customer service, respect for the environment, care for the community and staff development on an equal footing with profitability.
Cleankill Pest Control deals with 'distress' pests such as wasps and fleas, as well as preventative maintenance against public health pests such as mice, rats, cockroaches and birds. The company prides itself on fast and efficient service delivery and aims to be recognised as a market leader for innovation, 'green' and new pest control techniques. For further information go to www.cleankill.co.uk or call 0800 056 5477.
END
For more information, contact Suzi Christie on 01323 449 744 or e-mail suzi@blueberry-pr.co.uk