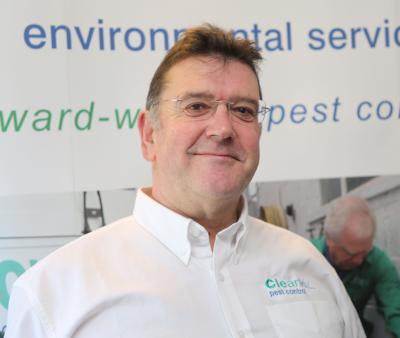 Cleankill Pest Control is proud to announce its Managing Director Paul Bates has been shortlisted as a finalist at the Institute of Directors (IoD) London & South Director of the Year Awards 2020.
Paul has been shortlisted for the 'Director of the Year – Social Value and Sustainability Impact' award. This recognises business leaders who promote ethical, sustainable, and socially responsible business while running a successful company. 
Paul joined Cleankill as Managing Director in 1997. Since then he has helped to grow the company from a turnover of just £30,000 a year to one that achieved £3+ million in the period 2019/20. As a recognised industry leader, Paul also serves on the advisory panel of ARMA, is a Fellow of the Institute of Leadership and Management and is regularly called upon to speak on television and radio and at chambers of commerce and networking events.  
Away from the business, Paul is a keen sportsman, sings in the church he was Church Warden at for eleven years, and has been awarded the Chief Scout's Medal of Merit for Outstanding Service to Scouting in recognition of his tenure as a Cub Scout Leader of the 11th Purley (St James' Riddlesdown) cub pack since 1983.
Cleankill is a multiple award-winning pest control company with offices in South London, East Sussex, Bristol and Buckinghamshire. Founded in 1995 by industry professionals who recognised there was a better way to run a pest control company, Cleankill puts customer service, respect for the environment, care for the community and staff development on an equal footing with profitability. From small beginnings, the company is now a nationally recognised provider of high-quality pest control services with hundreds of clients London, Surrey, Kent, Sussex, Hampshire, Bucks, Bristol and the rest of the country.
A key attraction for many customers is Cleankill's green approach to pest control. Their way of working focuses on Exclusion, Restriction and finally, and only as a last resort, Destruction. This means they have been at the forefront of using many new technologies but they also refer back to the traditional, green, ways, such as using Harris Hawks to scare away bird pests like pigeons and gulls.
Founded in 1903, the IoD was formed to represent the views of business to government during reviews over policy and legislation – it represents the opinions of the wider business community. It received a Royal Charter in 1906 that still forms the basis of the four key elements it promotes: better directors, better economy, better business, and better services. 
Due to the ongoing COVID-19 pandemic and social distancing rules, the award winners will be announced at a special virtual ceremony on 11 September. Guest of honour at this event will be Dame Esther Rantzen DBE.
END
About Cleankill Pest Control
Cleankill Pest Control deals with 'distress' pests such as wasps and fleas, as well as preventative maintenance against public health pests such as mice, rats,cockroaches and pest birds such as pigeons and seagulls. The company prides itself on fast and efficient service delivery and aims to be recognised as a market leader for innovation, 'green' and new pest control techniques.
For more information, contact Suzi Christie 07590 591140 or e-mail suzi@blueberry-pr.co.uk