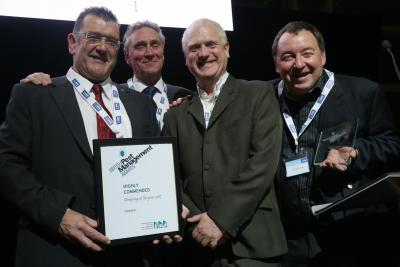 Cleankill Pest Control had cause to celebrate again when an employee was named winner of the Charles Keeble Award at the inaugural British Pest Management Awards. The award recognises outstanding commitment and performance in training and development.
Chris Davis is currently the Training, Quality and Technical Manager for award-winning Cleankill Pest Control. He has worked for the company for ten years and trains Cleankill's technicians while coaching and mentoring colleagues through their professional qualifications.
Commenting on the award, Chris said: "I'm very proud to have received this national recognition from the Pest Control industry and to be chosen out of all my peers was a real surprise and an honour.
"I am grateful for my employer Cleankill who put me forward for the award. It is a brilliant company to work for in all aspects but I've particularly appreciated the freedom and flexibility to develop the staff training programme which contributed towards Cleankill receiving the prestigious Investors in People Silver Accreditation. I also want to pay tribute to John Charlton and his team, who I worked with for 10 years. They gave me a great foundation and helped me to learn to be an effective trainer."
A focus on training and development has allowed Cleankill to grow organically and maintain very low levels of staff turnover. This was one of the contributing factors in Cleankill also being Highly Commended in the category of 'Company of the Year' at the British Pest Management Awards. The award recognised Cleankill's 'outstanding pest management service' and dedication to providing a professional customer-based service that truly believes in delivering 'green' pest control through highly-trained and rewarded technicians.
Managing Director Paul Bates said: "It's fantastic to be recognised by professionals in your industry and to be Highly Commended in a national award against stiff competition. The judges praised us for our quality of service, training and the professionalism of our staff. Congratulations to the winners Beaver Pest Control who share similar values and ethos to us."
The inaugural British Pest Management Awards were held at the East Wintergarden, Canary Wharf, during a special dinner held to mark the 75th anniversary of the British Pest Control Association. The event brought together key stakeholders from the pest control sector to celebrate the activities of the association, its members and supporters, and to look forward to the next 75 years of responsible pest control.
Based in Croydon, Surrey, and Seaford, East Sussex, Cleankill Pest Control has been providing pest control services to London and the South East since 1995. Set up by former Rentokil employees, Cleankill was founded upon the desire to create a company that placed customer service, respect for the environment, care for the community and staff development on an equal footing with profitability.
Cleankill Pest Control deals with 'distress' pests such as wasps and fleas, as well as preventative maintenance against public health pests such as mice, rats, cockroaches and birds. The company prides itself on fast and efficient service delivery and aims to be recognised as a market leader for innovation, 'green' and new pest control techniques. For further information go to www.cleankill.co.uk or call 0800 056 5477.
END
For more information, contact Suzi Christie on 01435 830031 or e-mail suzi@blueberry-pr.co.uk