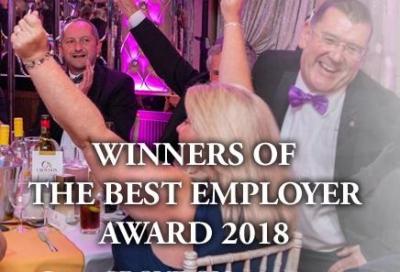 Readers of my blog will know Cleankill understand the importance of entering awards as part of running a successful business. We know good marketing and self-promotion are a vital component of any business plan.
Business awards are an excellent way to promote your business. Over the years, I have written about success and failure at award ceremonies but, if I'm really being honest with myself, there is never really any down-side to entering business awards. To ensure this this is true you must know two things – what you are doing and why you are doing it.
Business awards put you in the room with other companies. If you want contracts with other businesses, it makes sense to be in the room with them. Most awards are targeted and geographically specific, so being at an awards ceremony with companies as they celebrate their success is simply good business practice.
Knowing my interest in business awards, I was recently asked by Gatwick Diamond Business to give a talk to business leaders on the value of entering business awards. I don't profess to be the world's greatest expert on this subject, but I reckon I've amassed quite a lot of experience and understanding over the years.
These are my top seven reasons to enter business awards:
Not all business awards are the same. With the Gatwick Diamond Business Awards, for example, most categories focus on a single aspect of your business – customer service, environmental impact, training and development, etc. As they are not general, they force you to concentrate in a robust manner on each aspect in isolation. Your responses are initially submitted on an entry form but then your answers are verified by the judging panel during an interview process. If you are fooling yourself about the quality of one aspect of your business, this will quickly show up. While you may not win that year, it gives you the opportunity to improve for the next year.
Promote your USP. Cleankill is an environmentally aware pest control company. This is one of our unique selling points (USP). The problem is, people don't naturally put being 'green' alongside pest control. By entering and winning awards for being 'green' we have demonstrated to customers that our claims are true, and they have been independently considered by a panel of judges. A USP that comes with an award, is one which is worth promoting.
Awards come with feedback. If you win, that's great, but even if you lose the feedback can be invaluable in telling you how to either improve your business and/or improve the way you articulate this aspect of your business.
Winning is great for your staff. A win is good for patting yourself on the back but you must never forget it is also wonderful for your employees to know they work for the best company in their region. This is a prime opportunity for you to remind your staff they are appreciated. The cost of taking them to the award ceremony is easily offset by the loyalty it engenders, the morale it boosts, and the fact you are demonstrating your respect for your staff.
Increased business visibility. If you win, you can talk about it. Get it into the trade press, local press, on websites, and distribute your press release via social media. It's important to let your customers know they are using an industry leader. After the initial round of promotion, however, it is easy to forget about the win. Wrong! This is an accolade that will last at least for a year, so add it to your website, put it on your email signature, and make sure it is included on your literature. Beyond 18 months, an award can become irrelevant but until then – use it! The win differentiates you from your competitors for that year because you can claim something they cannot.
Awards define quality. As a winner you are, by definition, the best. The judges for these awards are often other members of your business community. Therefore, in effect, you have received independent judgement from your peers and they have evaluated you as the best. In most places, business communities are quite small and so once your name becomes known for quality, your business will have significant advantages.
You name will be heard. Whether you win or lose, by the end of the evening you name will be heard by a fair number of potential clients who are at the award ceremony. For example, in a year we didn't win, Hugh Dennis kept mentioning us. Even today, four years later, people still remark on that.
On a slight tangent, Johnny Vaughan on Radio X recently read out a piece of press we did about rats coming into our homes as winter approaches. He ended up being rather taken by our name and then imagined me as some sort of expert hitman. Was I offended? No, it was funny, not contrived, and he mentioned Cleankill several times. One of the guys who does public relations for us is still chortling at the disconnect between Johnny Vaughan's imagined assassin and myself. Listen here.
Those are just seven good reasons to enter a business award but there are more. The fundamental thing you must remember is, this is a networking opportunity. If you want to do business with other businesses, the first thing you must do is be in the room with them. Entering a business award gives you entry to the room and at the same time it makes you focus your attention of different aspects of your business. If you win, you can promote yourself and your USP but, whether you win or not, the process has benefited your business and it has made you a better business operator.
Cleankill Pest Control has won numerous awards both locally and nationally for everything from 'Best Customer Service' to 'Best Green Business'. To learn more about how Cleankill can help keep your business pest-free, click here.