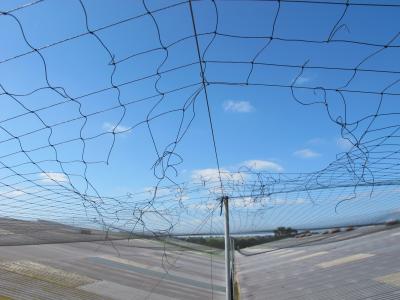 As Spring approaches, facilities and property managers are being urged to make sure bird control methods are in place before pest birds settle in for the peak nesting periods of Spring and Summer.
In April and May, pigeons and gulls will start taking advantage of the warmer weather to sit on outside ledges and pipe work. Their droppings then fall to the floor below, creating a dangerously slippery surface. There are many techniques available including installing nets, sprung wire systems and bird spike repellents.
Poorly maintained netting can lead to birds getting tangled up and damaging the netting further – as well as other problems such as retrieving the birds safely and the stress caused to the animals themselves.
The latest weapon in Cleankill's armoury is a special, highly effective gel that discourages birds from landing on buildings because it appears as flames to them. After extensive trials and testing, the Cleankill is now using the gel, particularly for bird control on listed buildings where netting and spikes would be unsightly. Proofing work, which involves using different methods such as blocking entrance holes, should also be carried out as part of an integrated strategy.
Pigeons or 'flying rats' actually carry more diseases than rats. Nearly all pigeons carry bird mites - a tiny insect that feeds off the bird and makes humans itch and scratch. Pigeon fouling and nest materials also provide a home for many other insects such as clothes moths, carpet beetle and mealworm beetles. Pigeon excrement, when it is dry, creates airborne bacteria affecting anybody that may be susceptible to asthma and other breathing difficulties.
Although they like to be beside the coast, gulls will nest anywhere and protect their nests aggressively – diving at anyone they feel poses a danger to their young.
Pest gulls can be discouraged by using hawks as part of a bird control strategy. The hawks make the gulls uncomfortable and encourage them to find an alternative nesting site.
Parakeets are becoming an increasing problem and making sure buildings are properly proofed in areas where there are large colonies of these birds should be a high priority.
Paul Bates, Managing Director of Cleankill Pest Control, said: "With pigeons now breeding four or five times a year, compared to two or three times 20 years ago, their numbers are increasing dramatically. The problem is exacerbated by people feeding them and attracting them into town squares where they are fouling on pavements and buildings. If a gap in the netting goes unnoticed and a pair of pigeons gets through and into a roof space, in a matter of months there can be hundreds of birds living there and the floor will soon be covered with fouling up to a foot deep."
Paul added: "Ideally you should choose a pest control company that can offer an installation service with an inspection contract. This means that it is the pest control company's responsibility to regularly check the netting hasn't been damaged and make any necessary repairs.
"Bird control work is very hazardous for workers and any staff carrying out this type of work need in-depth training on working at height and specialist equipment. Check that any companies you ask to quote have insurance, health and safety procedures in place and are members of the British Pest Control Association."
Cleankill offers a specialist bird control service, from the initial survey and specification through to the final proofing solution. As registered waste carriers, Cleankill can carry out full-scale removal of bird fouling, as well as contaminated goods and furniture, from infested properties.
Cleankill Pest Control has the accreditations you should expect from your pest control supplier including being members of the PICS supplier scheme (Contractor ID 57321), ISO9001 and 14001, Exor, Chas, Construction Line, Achilles UVDB and Contractor Plus, Safe Contractor and Altius Assured Vendor. As an Investor in People with a Silver accreditation, all Cleankill's staff are highly trained and offer an exceptionally fast and efficient level of service. The company is a proud member of the British Pest Control Association.
ENDS
Press enquiries please contact Suzi Christie on 01435 830031 or e-mail suzi@blueberry-pr.co.uk