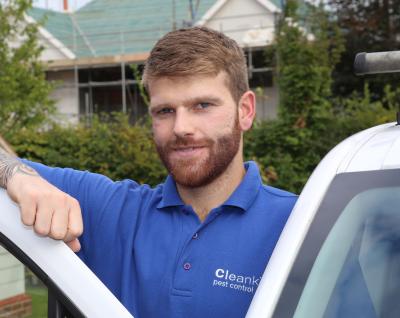 Pest control surveyor Sam Boylett has passed his Royal Society for Public Health (RSPH) Level 3 Pest Management qualification, making him one of the only surveyors in the country to achieve this level of certification.
RSPH Level 3 Pest Management is aimed at pest control technicians who want to progress within the industry. It demonstrates advanced pest control expertise and showing in-depth knowledge of both vertebrate and invertebrate pests.
Since joining us four years ago, Sam has proved himself to be an exemplary pest control technician, dedicated to his job and his customers. In 2021, he took over the British Pest Control Association's social media channels with a collection of video diaries designed to give viewers a behind the scenes look at life as a pest controller. This year, as part of our expansion in West Sussex, Sam was promoted from technician to surveyor.  
Managing Director Paul Bates comments: "It doesn't surprise me at all that Sam has achieved his Level 3 qualification. He is an integral part of our business, liked by his colleagues and customers, and has very rapidly shown he has what it takes to be one of the best pest controllers in the country.
"As a company, we recognise the importance of qualifications, with all field staff trained to a minimum of RSPH Level 2 in pest control. This helps us to deliver a better, safer and more comprehensive service to our customers."
Now employing 50 staff, Cleankill Pest Control offers eradication and preventative services for all public health pests, including: mice; rats; cockroaches; wasps; fleas; squirrels and pest birds. As a registered waste carrier, Cleankill can also remove pigeon debris and other waste.
With offices in Surrey, East Sussex, Bristol and Buckinghamshire, Cleankill has many customers throughout London, Surrey, East and West Sussex, the Home Counties, Bristol, Gloucestershire and Somerset.
For a free survey or cost comparison go to www.cleankill.co.uk or email info@cleankill.co.uk
ENDS
For more information, contact Suzi Christie 07590 591140 or e-mail suzi@blueberry-pr.co.uk