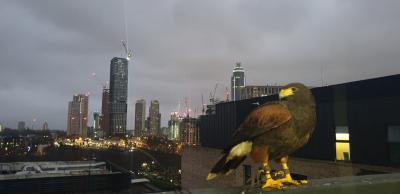 FirstPort, the company which manages the prestigious Enderby Wharf in Greenwich, London, needed to find a solution to the pest bird problem which was causing residents' balconies and other areas to be fouled.
To preserve the look of the development, techniques such as spikes to prevent the birds from landing were not an option. Cleankill Pest Control suggested that the use of its Harris Hawks would be the best solution. Cleankill's bird team, led by Technician and Bird Handler Alan Day, is now visiting the site twice a week to deter pigeons and gulls from roosting and nesting with great results. Cleankill is also providing other services on the site to make sure it is kept pest free.
Nish Moheeputh, Development Manager for FirstPort, said: "Alan is really good and is definitely an asset to Cleankill. He is always friendly and polite and nothing is ever too much trouble. We called on Cleankill as we had lots of issues with pests on site and the intruders have gradually gone away. The residents of Enderby Wharf are very pleased with what is being done."
Enderby's Wharf was named after Samuel Enderby a maritime entrepreneur and explorer who founded a shipping company in the 18th century. The area has a history of more than 150 years of production of submarine communication cables and associated equipment and is one of the most important sites in the history of submarine communications.