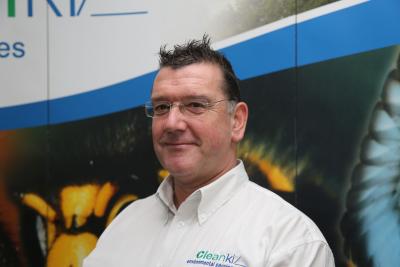 I don't remember the careers' adviser at school suggesting forging out a satisfying career ridding places of mice and cockroaches - so I ended up in the Civil Service.
In the late 1970s the Ministry of Defence was a very civil place but I don't think I could describe it as providing a service – for a teenager just out of school, the social life was a dream come true. However, after five years of watching the same piece of paper go round and round I started to get bored and wanted to look for something far more satisfying. At one stage I even applied to become a bus driver – I got 100% in the written test but watching a mini cooper disappear under the rear wheel arch of the bus on the driving test soon put paid to that idea.
Then I had a discussion with my sister who was the PA to the MD of Rentokil Property Care. She told me that the Pest Control Division was actively recruiting graduates in the London branches and that I should see what they had going. They had an excellent reputation as a company that looked after its staff and their customers and provided a high-quality service. So in 1982 I joined Rentokil pest control in Sidcup as a technician covering South East London.
Working for Rentokil my eyes were immediately opened as I realised that virtually every quality restaurant, food shop, office and factory had a preventive maintenance contract. The majority of premises that had pest control had no problems and, if they did, they were dealt with very quickly. Certain advantages came to light – bakeries always gave you bread and cakes, a coffee importer supplied me with jars of coffee every time I went there – they always had extra visits - a pickle manufacturer in the Old Kent Road area kept me in a marvellous supply of pickles and, of course, the Indian restaurants were always willing to give a few spices in return for an extra bit of mouse poison (or medicine as they called it).
I remember a restaurant on the Old Kent Road – it had a dreadful mouse and cockroach problem. What was strange was that whenever I visited it, normally between 10 and 11 o'clock, the front door would be wide open, half-drunk glasses on the table, the smell of the night before everywhere, but not a soul in sight. In the top floor offices there would be pound notes galore scattered over the tables but it was always like the Marie Celeste. I just treated it as normal and the bills were always paid on time. It was only in 1991 when a gangland crackdown happened that I found out the place was owned and run by South London's main gangland equivalent of the Krays. I remain glad to this day that I never let the pound notes fall into my pocket!
After 18 months I was invited to become a surveyor – carrying out the sales development for the Croydon branch and in 1986 I was one of the top 15 sales people in the Rentokil Group worldwide. I became a sales manager in 1987 and a branch manager in London South in 1991 – the first time that anybody within the group had progressed from bottom to top in the same location. In 1994 I was invited to take over the ailing south coast branch based in Hove which I did – travelling daily from Croydon to Hove (a journey that one of my fellow directors now does in reverse, travelling up daily from Seaford). In two years the branch turned from losses into a steady growth. However the culture of Rentokil had changed – the shareholders were now more important than the staff or the customers. I contacted two old friends who had both worked for me as service managers in London South. They had set up a little company in Croydon two years previously and wanted to provide the quality service that was disappearing from the industry – it was turning over about 20k a year and they wanted it to grow. Rentokil was damaging my health and my family so it was no contest. I resigned from a well-paid and rewarded job on Friday and started on the Monday with a company that wasn't making enough to pay one man, let alone three directors. A year later a fourth old friend joined us as a director. We started to think that we were maybe just a bit top heavy with four directors and one part-time member of the office staff. But, by the end of '97 we turned over £37k... the end of '98 was £68k... '99 was £136k and this year we celebrated Cleankill's 20th birthday, turnover of £2 million, 32 staff… and still growing.
Paul Bates, Managing Director, Cleankill Pest Control. You can contact Paul on info@cleankill.co.uk
Call now for a free quote 0333 920 3638.