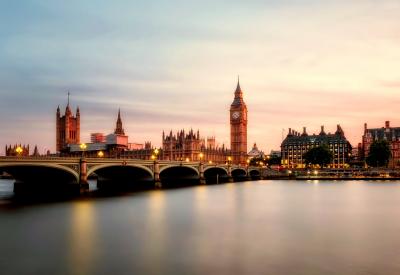 Cleankill is one of London's leading pest control companies; serving The City and its surrounding boroughs since 1995.
From our head office in Croydon, we operate the capital's most qualified team of pest control surveyors and technicians. We have won numerous awards for our effective and environmentally responsible pest control services for both commercial and domestic customers. In addition, we have been recognised for our superior customer service and the way we run our business in a responsible way - giving back to our communities while protecting the environment. To learn more about our awards, click
here
. 
London is a modern, thriving city built on the foundations of centuries of development. Our technicians are experienced at working in all types of property, from modern office blocks to historic buildings. We provide pest control services for hotels, restaurants, warehouses, residential properties, sports grounds, factories and even unusal structures, like the Thames Barrier.
Subterranean London, with its Victorian sewers, provides rats with the perfect habitat in which to secretly move around the city, finding access to restaurants and hotels via their drains. Food-based businesses are particularly at risk, with rats able to gnaw through most materials in their search for food. We can fit interceptors into your drains to prevent the rodents entering your premises.
Cleankill is a company based in Greater London that understands the best ways to keep your property pest-free. Work with us to help you maintain the hygiene standards you, your customers, your staff and the law require.
Approach to pest control in London
Our way of working is Exclusion, Restriction and, as a last resort, Destruction.
'Exclusion' means that we look at how a pest is entering a building and then make sure all entrance points are blocked.
'Restriction' means creating unfavourable conditions for pests.
'Destruction' means the chemical and physical elimination of pests. If appropriate, we prefer to use traditional traps to capture rodents - they are safer for humans and other animals and we always try to use the minimal amount of chemicals to get the job done. We never blanket spray and only use pesticides as a last resort. For example, we use non-toxic silica dust to dehydrate insects such as cockroaches, and pheromone traps for moth control.
Accreditations
We have all the accreditations our London customers would expect and more. Most involve rigorous third-party inspections, providing customers with the assurance that our business is run in a professional way using the highest industry standards. To see a list of our certifications, click here.
We are also a proud member of the British Pest Control Association (BPCA). All our London technicians are certified by the BPCA and we adhere to the BPCA Codes of Best Practice.
Innovation
Effective pest control always requires lateral thinking, particularly in cities like London, as no two situations are exactly the same. We have the knowledge, experience and expertise to tackle any pest problem whether it involves rodents, insects or pest birds.
Pest control for your London home
If you live in London rats are a fact of life. Author Martin Soames in an article in Country Life debunks the myth that you are never more than six feet away from a rat but we should all still be on the lookout for evidence such as droppings and take action as soon as possible. Rats and mice breed very quickly, especially in London, and once they get a foothold the problem will take longer to deal with and will be more costly.
Pigeons, cockroaches, ants, bed bugs, wasps, moths and even parakeets are all pests that are common in parts of London.
Pest control for your London business
Keeping your premises pest free, meeting your legal requirements and having a good hygiene rating from Environmental Health officers should be a top priority especially if you are a food outlet, a hotel or a business in London that serves food to staff.
Hundreds of businesses across the UK are fined  or closed down every year because they haven't invested in a pest prevention contract. An annual prevention contract gives you peace of mind and removes unwanted financial surprises, as expenditure is agreed at the start. For many premises, a normal contract will be for eight inspections per year, each with a full report.
FAQ
How much does your service cost?
Every pest problem is different. For one-off jobs like a wasps' next we can normally quote a set fee but in most cases we will arrange for one of our London-based surveyors to visit your premises and discuss the different options. You will then receive a quote so you know exactly what the costs will be and how you can pay.
How quickly can you visit my premises?
It depends on the severity of the problem. A member of the team will talk to you to discuss the options and how quickly we need to come out.
Which parts of London do you work in?
We cover the whole of London including the London boroughs so we can help wherever you live.
I've already tried one company and they didn't solve my pest problem. I don't want to waste more money
We have one of the most highly trained teams in the UK and we're often called in to solve problems when other companies have failed. There are very few problems we haven't dealt with and if it's a species of insect we are unsure about we have access to the UK's leading experts. For instance, there are 13,000 different species of ants.
I don't want anyone to know I have a pest problem. Do you come in a Cleankill vehicle?
When you speak to our head office team explain your concerns. Where needed we can visit you in an unmarked van or car and make sure our staff are very discreet.
Reviews about our London pest control service
"I am always impressed by your company's efficiency, reliability and promptness. 10/10."
Zev Gruber BA (Hons.) ABIFM, Facilities Manager
Lee Baron Group
"Your company is currently contracted to the block of flats I manage in Hampstead. We had a mice infestation that lasted several months, but thankfully Alan from your company got rid of them all.
A couple of the residents wanted me to pass on their thanks to Alan for resolving the problem and for being happy enough to patiently answer all of their questions, I know that one of the residents probably asked every question possible relating to mice. So if you could please pass on their appreciation to Alan for a job well done."
London commercial customer
"I contacted Cleankill to deal with a rat problem at my London apartment. Their technician Tom was excellent, very polite and came across as a very honest guy. He has sorted the problem so I don't have to worry about it any longer - which is great as I have a very busy schedule. In short, Cleankill provided an absolutely excellent service."
Wynne Evans, Opera Singer (famous for the Go Compare TV adverts)
London case studies
(Click on the title to read the full story)
Raised flooring in office buildings - designed to create space for ducting and cables - provides the perfect space for mice to move around a building without being seen. They can then easily emerge through openings, such as risers used to house electrical sockets, to find food. 
When staff at an office near London Bridge saw mice scampering around the carpet, they called in Cleankill to deal with the problem. To identify whether this was a random case or an on-going infestation, motion-sensitive cameras were placed under the floor for two and a half days. This provided the information the team needed to accurately position traps and quickly and efficiently remove the infestation.
When a landlord called Cleankill to a building in South Kensington, technicians found one of the worst infestations of bed bugs they had ever encountered. The building was converted into bedsits, each with a sitting tenant. In one bedsit, belonging to a man in his mid-70s, they found bed bugs behind skirting boards, in cracks in the walls, and in his furniture - bed, wardrobe and armchair. 
Cleankill technicians removed the infested furniture, used a combination of residual insecticide and diatomaceous insecticide to clear the infestation, and checked neighbouring properties to ensure the infestation hadn't spread.
Office blocks in London often have restaurants and shops on the ground floor, which can present additional challenges if tenants do not adequately keep their premises hygienic and pest-free.
When an upmarket Italian restaurant in central London called Cleankill in to deal with a serious fly infestation, the technicians found the infestation was originating away from the restaurant. The flies were using a void near the toilets to enter the restaurant and then accessing the eating areas. The flies were identified as filter flies – small flies about the size of fruit flies – commonly found at sewage farms. Cleankill cleared the problem and has taken responsibility for pest control at the site.