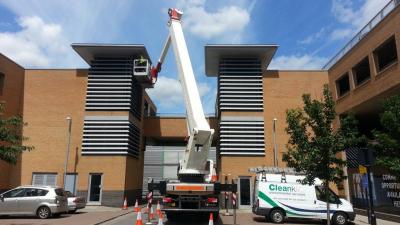 Pest controllers brought in a huge cherry picker to help them solve a pigeon problem in Croydon.
Barratt Residential Asset Management called in Cleankill Pest Control after pigeons started causing a health hazard in a car park in the New South Quarter.
Cleankill Surveyor Mark Hobbs explained: "There are two ventilation towers in the park and the pigeons were getting behind them and causing a huge mess. The only way we could access the towers to clean up the mess safely was with a cherry picker. We also had to get to a large pipe inside the exit ramp and this would have been impossible any other way."
After all of the pigeon faeces had been removed by Cleankill technicians, they set about proofing the area to prevent the problem occurring again. The best solution was a combination of netting and special Bird Free gel – the company's latest weapon in the fight against pest birds.
Following extensive trials, Cleankill is now using Bird Free as part of its armoury against pest birds. It is a special gel that reflects ultraviolet light and appears to birds as flames.
Bird Free gel keeps birds off structures without harming them. Rather than acting as a barrier like netting or spikes, the gel alters birds' behaviour. Birds will completely desert a habitat, even one they have been using for years, once Bird Free has been applied.
Pigeons take advantage of the warmer weather to sit on outside ledges and pipework while their foulings fall to the floor below, creating a dangerously slippery surface.
Cleankill Managing Director Paul Bates said: "With pigeons now breeding four or five times a year, compared to two or three times 20 years ago, their numbers are increasing dramatically. The problem is exacerbated by people feeding them and attracting them into town squares where they are fouling on pavements and buildings.
"Pigeons are the most unhygienic and messy birds and actually carry more diseases than rats. They nest on their poo and attract mites. Nearly all pigeons carry the bird mite - a tiny insect that feeds off the bird, but will also makes humans itch and scratch. Pigeon fouling and nest materials also provide a home for many other insects such as clothes moths, carpet beetle and mealworm beetles.  
Most of the pest controllers' work against pigeons tends to be proofing of buildings and light wells, using a variety of techniques including installing nets, sprung wire systems and bird spike repellents. When it is wet, pigeon faeces are not too much of a danger apart from being slippery and the acidity will, of course, burn car paintwork. But when it is dry, as it often is in a loft space, or below sheltered machinery, then the airborne bacteria can become a real problem – affecting anybody that may be susceptible to asthma and other breathing difficulties."
Cleankill Pest Control offers a specialist bird control service for facilities and property management companies in London, Sussex. Surrey and Kent, from the initial survey and specification through to the final proofing solution. As registered waste carriers, Cleankill can carry out full scale removal of bird fouling, as well as contaminated goods and furniture, from infested properties. As well as the feral pigeon, seagulls are becoming a greater problem for property owners and Cleankill can also offer advice and solutions for these pests as well.
ENDS
For more information contact Blueberry PR on 01435 830031.