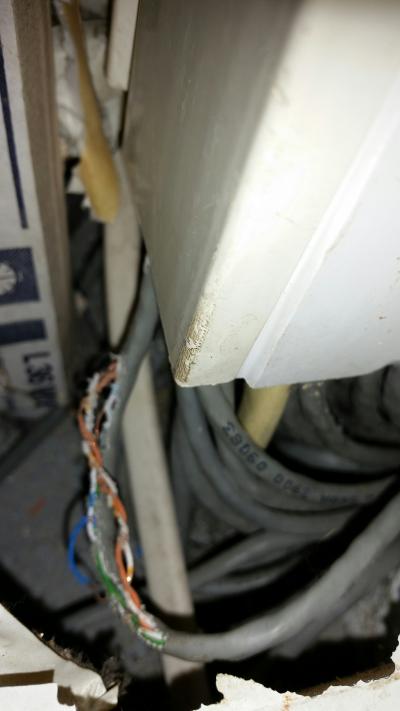 It's not only thieves who have been using tunnels to enter premises in London's Hatton Garden.
When workers in luxury offices near the site of Britain's biggest diamond heist went to retrieve some files from a cupboard they were horrified to find them covered in droppings.
They quickly called pest control company Cleankill Environmental Services who identified the droppings and set about getting rid of the rodents.
During a survey of the premises Cleankill found evidence of up to 30 rats in the cupboard, chewed electric cables and damage to timber in the area.
Cleankil's Ian Miller who visited the office said that the infestation was caught just in time and it was a good example of why pest prevention contacts are the best approach. Ian said: "If this infestation hadn't been spotted for another week, it could have been even more serious. The rats would have chewed right through the cables and caused loss of power and data - or could even have started a fire. The rats may also have started coming into the office space which would have been hazardous to staff and customers."
Ian believes the rats entered the property through service tunnels which is a common problem in London. All of the files in the cupboard had to be destroyed as they were contaminated with rat urine and droppings.
Ian added: "All premises should have pest prevention contracts in place. If there had been a contract in place our technicians would have spotted the potential problem early on and taken steps to 'proof' the office against rats. In the long run, prevention is better than cure and saves the aggravation and disruption caused when you suddenly discover a problem - not to mention the health risks."
Cleankill has been solving pest problems for commercial and domestic customers for more than 20 years. Using the most up-to-date pest control techniques and technology, the company keeps its customers pest free and makes sure it is at the forefront of the industry when it comes to the use of pesticides and non-toxic pest control methodology. As an Investor in People, all Cleankill's staff are highly trained and offer an exceptionally fast and efficient level of service.
The company is a proud member of the British Pest Control Association, as well as being approved to ISO9001 and ISO14001. Cleankill is also fully accredited to the Safecontractor, Exor, Constructionline and Achilles Health and Safety Accreditation Scheme and aims to be recognised as a market leader for innovation and new pest control techniques.