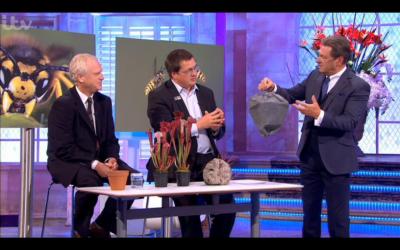 One of Cleankill's directors was in the limelight when he appeared on national television with Alan Titchmarsh.
Jon Whitehead was asked to appear in ITV's Alan Titchmarsh Show as an expert on wasps. Jon talked about why wasps are behaving erratically at this time of year. He explained that they are jobless and often get drunk on fermented fruit.
Jon brought a large wasps' nest to the show so viewers could see what a nest is like close up. Jon surprised Alan, the audience and other viewers with a story about how he once passed out after stepping on a wasps nest and being stung multiple time – highlighting the danger wasps can pose.
Jon said: "I was delighted to get the opportunity to go on the show. I was a little nervous as the show was being broadcast live and tried not to think about the millions of people who were watching."
Cleankill Pest Control, which has offices in Seaford, East Sussex and Kenley, Surrey, started in 1995 and is a specialist provider of pest control services to retail, commercial and industrial properties throughout the UK. The company deals with 'distress' pests such as wasps and fleas, as well as preventative maintenance against public health pests such as mice and rats. Cleankill can also clear and proof buildings against pest birds. The company prides itself on fast and efficient service delivery and aims to be recognised as a market leader for innovation and new pest control techniques.
For further information or interview requests, contact Suzi Christie at Blueberry PR on 01435 830031 or e-mail suzi@blueberry-pr.co.uk