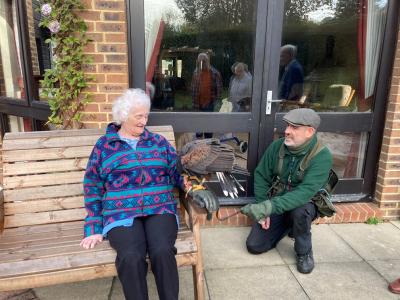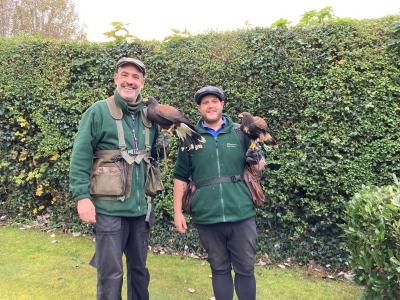 Cleankill' bird control team visited a retirement home in Caterham, Surrey, to help a pensioner fulfil a long-held dream.
Ruth Swain contacted Cleankill's Managing Director Paul Bates to explain that her mum Rita Newman had always wanted to take part in a 'hawking' experience, watching them fly and have one sit on her arm.
Ruth said: "Mum and dad went on holiday a few years ago with the specific intention to take part in such an experience but, when they got there, the long walk across unstable ground persuaded her that – at her age - it was not suitable for her.
"Dad sadly passed away in July of this year without having to been able to make her dream come true, and then Mum moved down from Mold in Wales to Caterham to be nearer me and one of my sisters.
"She celebrated her 90th birthday on 3rd November and, to make the day extra special, I asked Paul if we could arrange for the Cleankill birds to visit her. He readily agreed, and it could not have gone better, with Mum saying that she had waited all her life for this to happen.
"Cleankill's expert bird handlers, Alan and Richard, were absolutely amazing, not just with Mum but also with all the other residents in the retirement home."
Rita said: "Everyone was fascinated not just by the birds themselves but by the meticulous training that meant they did exactly what was asked of them.
"I have wanted this experience for year and years, and it exceeded all my expectations – well worth waiting 90 years for! Thank you to Cleankill for fulfilling this dream for me."
Cleankill is also supporting St. Catherine's Hospice Christmas appeal. Commenting on the decision Paul Bates said: "St Catherine's provides an excellent service for people reaching the end of their lives and their families. I can testify to how important this kind of support is, because I've lost four friends to cancer this year.
"I was very touched to hear about what St Catherine's wants to do for people's last Christmas and Cleankill is delighted to be able to help by sponsoring their Christmas appeal."
About Cleankill
Now employing 50 staff, Cleankill Pest Control offers eradication and preventative services for all public health pests, including mice, rats, cockroaches, wasps, fleas, squirrels and pest birds. As a registered waste carrier, Cleankill can also remove pigeon debris and other waste.
With offices in Surrey, East Sussex, Bristol and Buckinghamshire, Cleankill has many customers throughout London, Surrey, Sussex, the Home Counties, Bristol, Gloucestershire and Somerset.
For a free survey or cost comparison go to www.cleankill.co.uk or email info@cleankill.co.uk
ENDS
For more information, contact Suzi Christie 07590 591140 or e-mail suzi@blueberry-pr.co.uk