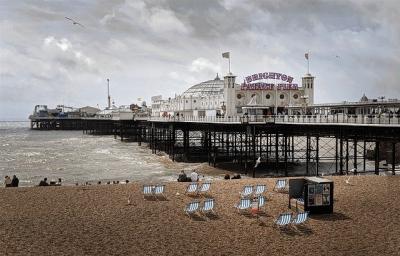 With the prospect of a two-week bin lorry driver strike at the start of October in Brighton and Hove, Cleankill Pest Control is offering residents advice on how to protect their properties from the threat of pest infestations that may result from uncollected waste.
Following a ballot by the GMB union, all refuse, recycling, commercial waste, and com-bin HGV drivers operating in Brighton and Hove are planning to hold a two-week strike beginning on 5th October. With most bin collections on a two-week cycle, this means recycling and general waste will not be collected for four weeks.
Whatever the politics of the situation, not having your bins collected for four weeks presents a major problem in terms of public health. Recycling, garden/food waste and general waste bins are often full at the end of a two-week cycle and so they will be overflowing at the end of four-weeks. This is an open invitation to pests such as rats, cockroaches and flies. Alongside the additional mess they will create, there is also a concern over the diseases they carry.
If negotiations fail to resolve the dispute, residents will need to put in place sensible precautions to avoid exacerbating the possibility of an infestation affecting their property.
Firstly, focus on food waste. Green bins are often predominantly filled with grass cuttings and garden waste. If your grass remains uncut for a couple of weeks, it is not a major problem. Instead, try to concentrate on making sure your food waste is properly dealt with.
Secondly, make sure all waste is contained within a closed bin. If the lid is down, pests generally can't access the bin. If you have one of the large wheelie bins, make sure the plug at the bottom, often used for cleaning, is replaced properly. This is a very easy entrance for rats to use.
Thirdly, make sure all recycling is properly cleaned before it is put out. Drinks cans with sugary residues, dirty baked bean tins, etc. are all tempting treats to pests. The aim is to make your rubbish as unattractive as possible to these pests.
The concern is that growing piles of waste will encourage pests to congregate around our homes. Inevitably, this may lead to some of those pests coming into our homes. It is much harder to get rid of an infestation that to try to stop it happening in the first place. If we make our rubbish piles unattractive, then the pests will simply move to a place that is not being so proactive in terms of good housekeeping.
Should you have a problem with pests entering your property, contact Cleankill on 020 8668 5477
Now employing 50 staff, Cleankill Pest Control offers eradication and preventative services for all public health pests, including: mice; rats; cockroaches; wasps; fleas; squirrels and pest birds. As a registered waste carrier, Cleankill also removes pigeon debris and other waste.
With offices in Surrey, East Sussex, Bristol and Buckinghamshire, Cleankill has many customers throughout London, Surrey, Sussex, the Home Counties, Bristol, Gloucestershire and Somerset.
ENDS
For more information, contact Suzi Christie 07590 591140 or e-mail suzi@blueberry-pr.co.uk
Image by Howard Walsh from Pixabay