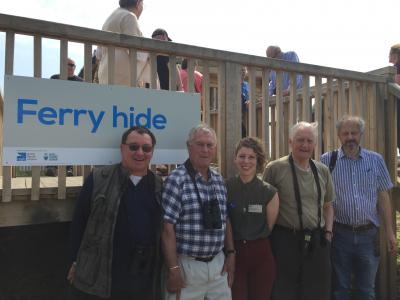 Cleankill Pest Control's Training, Quality and Technical Manager Chris Davis attended the recent opening of the RSPB's new hide and education centre at Pagham Harbour Local Nature Reserve.  Chris attended the unveiling in his capacity as Secretary to the Sussex Ornithological Society which donated £20,000 to the project.
The Pagham Harbour Local Nature Reserve is situated between Chichester, Bognor Regis and Selsey. The site's topography is split roughly equally between intertidal saltmarshes and mudflats and farmland, copses, lagoons, reedbeds and shingle beaches. This means its attracts a wide variety of birdlife, including wading birds, winter ducks and geese, and breeding shorebirds such as little terns and ringed plovers.
Pagham Harbour has gained a reputation as an excellent place to see rare varieties of terns, such as the threatened Roseate and Black terns. In recent weeks, it became the first place in the UK to record sightings of an American Royal tern, and last year it recorded an extremely rare Elegant tern.
Chris' dedication to his pest control role has been recognised by both the Lewes and Wealden Business Awards and the British Pest Control Association. In addition to being one of the most highly qualified pest controllers in the country, Chris maintains a keen interest in wildlife and is Secretary for the Sussex Ornithological Society.
Picture courtesy of J. Cook of the RSPB