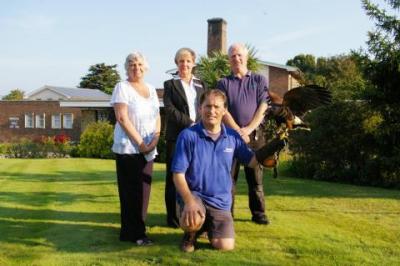 A flock of seagulls that was pestering mourners at Eastbourne crematorium has been brought under control using hawks.
The hawks are specially trained to scatter and scare the gulls away without harming them.
Eastbourne Borough Council contacted Cleankill Pest Control to help stop mourners being dive-bombed as they left the chapel. 
Councillor Margaret Bannister, portfolio holder for bereavement services, said: "Staff at the crematorium were becoming aware of the problems that the seagulls were causing to people attending services or visiting the grounds.
"It was felt that we had to call in bird control experts as the last thing crematorium visitors want is to have to worry about being attacked by seagulls.
"The hawk solution has proved very effective, with the benefit that it does not harm the gulls. We believe that by calling in professional experts we have helped to alleviate the problem."
Around eight breeding pairs of seagulls had made their home at the crematorium. The birds usually nest between March and September and get particularly aggressive during this period.
Paul Bates, Managing Director of Cleankill Pest Control, explained: "The crematorium complex has a flat roof which provides an ideal nesting site. We decided it would be best to try to reduce the population over a period of time and start a programme of removing nests and the eggs.
"Alongside this work, we bring in our hawks once a week early on a Thursday morning before the funerals start. The hawks fly at the seagulls and scatter them which makes them uncomfortable. Eventually they decide to find another nesting site."
Cleankill is a specialist provider of bird control services to retail, commercial and industrial properties throughout the UK. The company deals with 'distress' pests such as wasps and fleas, as well as offering preventative maintenance against public health pests such as mice and rats. Cleankill can also clear and proof buildings against pest birds.