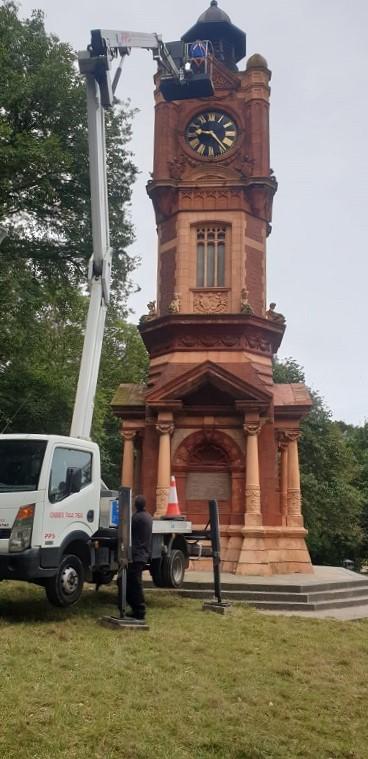 Cleankill Pest Control has been helping to clean up the famous clock tower in Brighton's Preston Park.
Pigeons had entered the Grade II listed tower through a broken stained-glass window and taken up residence.
The work involved cleaning the pigeon mess and debris inside the tower and then installing mesh to stop the birds re-entering.
Cleankill Pest Control Director Jon Whitehead explains: "Fortunately the problem was spotted before a large number of pigeons started to use the tower. There was however enough guano to be hazardous to health.
"Pigeons carry diseases and nearly all pigeons carry bird mites - a tiny parasite that feeds off the bird and makes humans itch and scratch. Pigeon fouling and nest materials also provide a home for many other insects such as clothes moths, carpet beetle and mealworm beetles.  When the pigeon fouling is dry it creates airborne bacteria affecting anybody that may be susceptible to asthma and other breathing difficulties, so it is very important that all mess is removed. All of the mess was removed under Waste Disposal Regulations 1994."
Pigeons often gain access to lofts and empty buildings through small gaps. Once they start to breed, the build-up of guano can be considerable. Gaps should be blocked and then affected areas cleaned out and treated with a biocide.
The terracotta Clock Tower in Preston Park had its foundation stone laid in 1891 and had its formal unveiling ceremony on 17th June 1892.
The tower was designed by Francis May who said that he wanted it finished in terracotta because he felt that a more standard white marble tower, set in green fields and surrounded by trees, would look too much like a funeral monument. The tower was paid for by Edward White (whose initials EW adorn the tower), and the draughtsman for the plans was Eugenius Birch.
The front and side walls feature a peaked portico with two pillars in front of an inset arch with a semi-circular top filled by a concave seashell. The back wall design is practically identical except that its recess holds the tower's access door. The tower's pillars feature a recurring design of pairs of dolphins facing a pillar which is repeated on the terracotta walls behind them.
Cleankill Pest Control deals with the full range of public health pests, such as mice, rats, cockroaches, and pest birds. Cleankill believes in prevention rather than destruction and within the industry is recognised as leaders in the delivery of effective, innovative and 'green' pest control solutions.
Launched in 1995, Cleankill Pest Control has grown year on year and now has several thousand clients throughout London, Bristol, Buckinghamshire, the South East and across the UK. The company's head office is in Croydon, Surrey, with local offices in Hove and Seaford, East Sussex.
ENDS