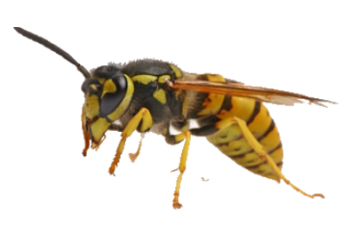 I was reading the BBC News website this morning, I had gone to read a story about the first confirmed case of an Asian Hornet in the UK, when my eye was drawn to the side-bar and a story entitled, "Why are there wasps in my bathroom?"
As you will recall from our recent news item, wasps have been a recurring theme for Cleankill over the last couple of months. As the BBC article notes, there has been a 1000% increase in the number of people searching Google to find out when UK wasps will die. Twitter is also awash with people sharing their experiences of these pests – especially in the bathroom. This has meant we have been especially busy with people calling us out. We even decided to issue a news item to help people spot the difference between a wasp and a bee.
What made me catch my breath this morning, however, was the inclusion of a name I recognised towards the bottom of the article – my own name – along with some quotes I had given a few weeks ago on the subject of Vespula Germanica.
It all started when I was asked by our public relations company, Blueberry PR, to provide a few quotes to a freelance journalist on the subject of wasps in general, and in particular the German wasp. After that, I forgot all about it. At Cleankill, we are often asked to pass comment on pest problems and after a while you get used to it. It can be exciting, for example, appearing with celebrity cleaner Kim Woodburn on the Alan Titchmarsh Show, but it is just part of the job.
This time, however, my quotes seem to have spread, if you'll forgive the pun/analogy, like a plague of locusts. Soon after I gave the quotes, they began to appear in newspapers. The first paper I saw it in was The Daily Star, this was quickly followed by the other national newspapers: The Sun, The Mirror, Metro and The Daily Mail. Following this, my words started appearing in the local press: firstly in Plymouth , then Portsmouth, Yorkshire , Doncaster, with others following. We even made to Scotland, in The Sunday Post and The Southern Reporter, and Ireland
With other stories appearing in the press about wasps, I suddenly found I was in demand on local radio and was booked to appear on the BBC Sussex Radio Breakfast Show with Neil Pringle. To listen to my segment, click here.
And then it went quiet...until today when I suddenly read my name in article about wasps in showers on the BBC News website. This article has now gone global by being included on a global news website, Rocket News.
This does certainly seem to be the year of the wasp; our newspapers are full of horrible stories of wasp attacks - they have even managed to send a giant wasp to appear on BBC Scotland news. Although, as the original BBC news article quotes a source who says there are actually fewer wasps around this year compared with last year. This is because of a bad winter for bees and wasps as it didn't get cold enough for them to hibernate. It seems that during the latter part of the summer we are just seeing more of them entering our homes because they are trying to find food.
What interests me most is the way my words have altered over the last few months. Where originally I gave a journalist a few quotes and facts about wasps, by the time this had reached the BBC News website, this had turned into a 'Chilling warning'.
Still, none of the newspapers managed to beat my favourite German wasp headline from last year – "Ouch, Achstung!",from The Sun newspaper.