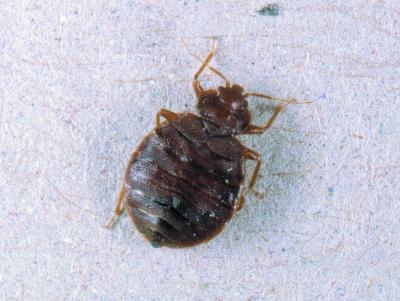 Over the last few weeks you may have noticed there have been a number of terrible stories about bed bug infestations in the newspapers. Being the director of a pest control company, it is my misfortune to have dealt with these difficult pests on more than one occasion and I can assure you that prevention is far better than having to deal with an infestation. As we have seen from the stories, this is a pest that has no qualms about infesting both up-market and down-market establishments.
A large number of these news stories have focussed on New York, where even establishments like the 5-star Waldorf-Astoria have been afflicted by this most difficult pest. The Daily Mail reported that, according to the Bed Bug Database, there has been a 44% increase in reported cases of bed bugs in New York between 2014 and 2015. This article includes a particularly nasty video showing how an infestation can affect paying customers. This isn't the first time the Waldorf-Astoria has had a problem with bed bugs as, in 2010, it was sued by a Michigan family after they were affected following a stay at the hotel.
Another recent story, reports how bed bugs caused a star basketball player, Kyrie Irving, to miss the majority of a match in Oklahoma after a restless night caused by bed bugs in his hotel room.
The reporting of a 44% increase in reports of bed bug attacks points to what many pest controllers have long suspected - that excessive use of pesticides has led to immunity among the 'wild' populations of bed bugs. Interestingly, there are captive bed bug colonies in America and these may provide the way forward in dealing with this resistant pest. In 1973, a military entomologist called Harold Harlan was called to investigate an infestation at Fort Dix, New Jersey. At that time bed bugs were very rare in the US, and he had never actually seen them before and so, because of his surprise and interest at seeing these bugs for the first time, he captured some of the bed bugs and kept them to study. He kept his colony alive by feeding them his own blood and, because this colony has been captive since the 1970's, they have avoided contact with all our modern pesticides. Therefore, unlike the 'wild' bed bugs in our homes and hotels, these captive bed bugs are still susceptible to our modern pest control measures. It is hoped that studying at these unaffected bed bugs may provide us with the way forward.
It would be wrong to see this as a problem that is only affecting the US. In Leeds, there is currently a dispute over an older people's complex where bed bugs have been found. We have also previously reported how hotels in the UK have been fined for affecting customers, and only last week a British Airways jet was grounded and disinfected when a passenger was 'nipped at 30,000ft'.
The reason for the spread of bedbugs is linked to the changes in the way we now live our lives. When Harold Harlan first stumbled upon those bedbugs in 1973, it was a rarity in the US and he had never seen them. Since then, international travel has become common place and it is this which has allowed the bedbug to spread so effectively. When you visit an affected building, the bedbugs hitch a lift in your luggage and then transfer to your home or the next hotel – this is why hotels suffer more than other properties.
As an environmentally aware pest control company, Cleankill has always recommended prevention rather than cure. With bedbugs becoming resistant to our insecticides, it is clear that now is the time to look again at our preventative measures. Several newspapers have been offering advice on how to avoid being affected by bedbugs, while on holiday.
For more great advice on how to avoid letting these pests into your home, look at our special bedbug webpage.